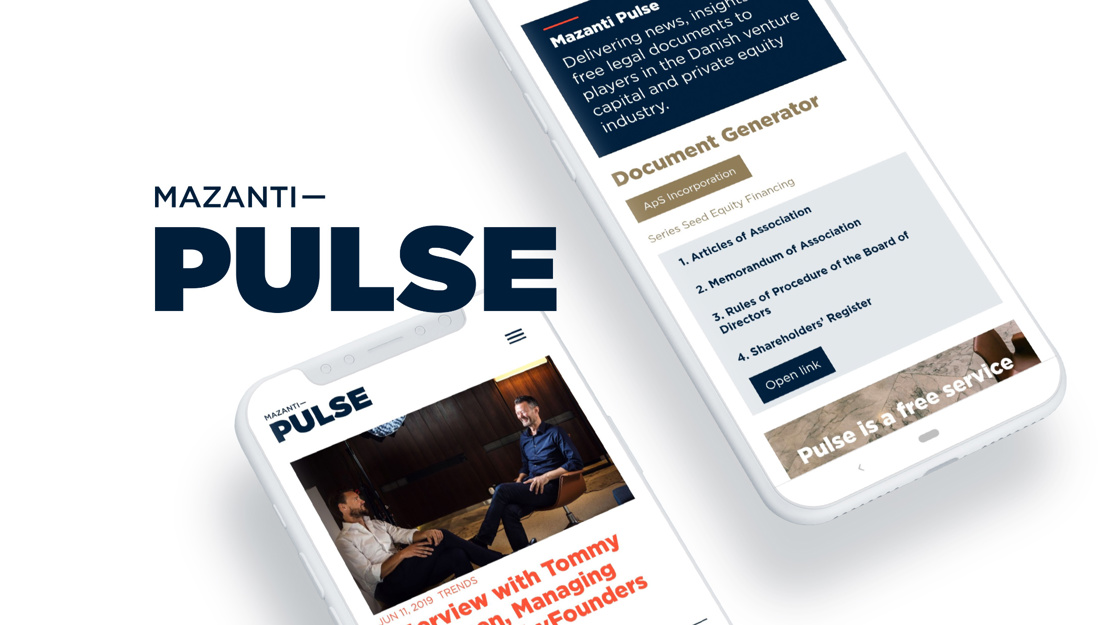 Copenhagen, 13 June 2019


Mazanti-Andersen Korsø Jensen Launches Mazanti PULSE – a New Online Resource for Players within Venture Capital and Private Equity
Mazanti-Andersen Korsø Jensen has launched mazantipulse.com – a new online resource delivering news, insights and free legal documents to players in the Danish venture capital and private equity industry.
Mazanti Pulse is a microsite featuring legal updates, market insights and a unique document generator - all in one place. Drawing on the experience and expertise of our dedicated team of advisors, the site provides updates on legal, tax and regulatory developments for players in the venture capital and private equity industry. It enables users to search information, follow market trends and explore interviews with different players in the industry. And finally, it offers access to a document generator that will simplify the legal paperwork process – free of charge.
"Legal advice related to venture capital and private equity is one of our core competencies. We want to share our knowledge and we have a desire to contribute to and play an active role in the Danish private equity and venture capital ecosystem. One step is making formation of companies and equity investments in early-stage companies easier, faster and less resource demanding, allowing the founders and investors to focus on the main thing: Making their business grow. Our legal documents are made available free of charge because we believe that it is not our documents that make us valuable as highly specialized attorneys - it's the advice behind them" says Jakob Mosegaard Larsen, one of the leading partners in the Mazanti Transactions group. 
The Mazanti Pulse document generator includes an ApS Incorporation Package with dual language versions (DK and UK) of Deed of Incorporation, Articles of Association, Shareholders' Register and Rules of Procedure of the Board of Directors. A Series Seed Equity Financing Package including Term Sheet, Investment Agreement and Shareholders' Agreement and dual language versions (DK and UK) of Minutes of General Meeting and Articles of Association will be available on the site shortly. It is expected that more documents may become available over time.
Mazanti Transactions has gained a reputation as market leaders within fund formation and venture capital investments through long-term cooperation with Danish and foreign managers, corporate VCs, founders, business angels, DVCA and Invest Europe. Mazanti Pulse is managed by the Mazanti Transactions team, but is backed by the comprehensive insights of all attorneys at Mazanti-Andersen Korsø Jensen.
Visit the site here: www.mazantipulse.com

For more information, please contact:

Jakob Mosegaard Larsen, partner and attorney-at-law
jml@mazanti.dk / +45 2752 1973
Simone M. Jørgensen, Communications Advisor
smj@mazanti.dk / +45 6010 6587