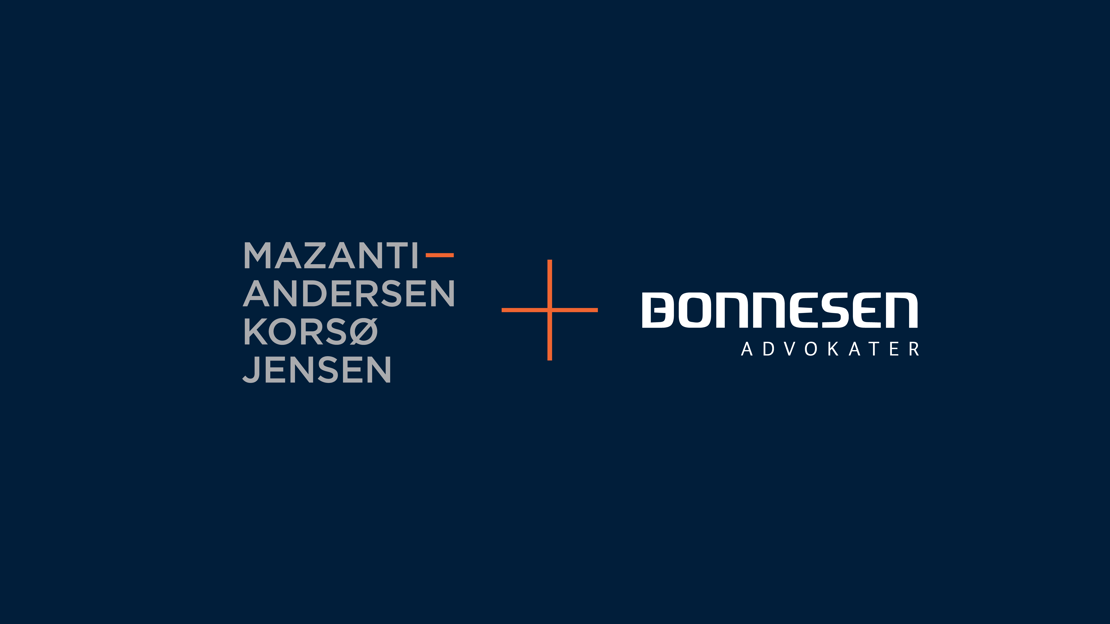 Press release
Copenhagen/Odense, April 2, 2019
Mazanti-Andersen Korsø Jensen expands its business and establishes itself on Funen
Good chemistry and a mutual desire for growth have led the Funen-based law firm Bonnesen Advokater to become part of the Copenhagen-based law firm Mazanti-Andersen Korsø Jensen (Mazanti). As a result, Mazanti has strengthened its position as one of the major law firms in Denmark and become the largest commercial law adviser on Funen.
"The admission allows us to strengthen our position not only on Funen, but also within several specialist areas of commercial law. We are taking on a large number of skilled employees from Bonnesen Advokater who possess highly specialized competencies, enabling us to continue serving our clients at an exceptionally high professional level. Funen is also home to a very interesting growth market and to many exciting companies. And because the admission allows us to expand, it also gives us more opportunities to further train and develop our employees. All of these factors work together to elevate the entire company and thus help us realize our ambitious goals for the future," says lawyer and chairman of the board Henrik B. Sanders from Mazanti-Andersen Korsø Jensen. With the addition of Bonnesen Advokater's 32 employees, Mazanti now has a total of 122 employees, of whom 65 are lawyers.
Bonnesen gets stronger on Funen
"We get the best of both worlds. We are able to stay on Funen, where we are in the process of expanding our business. At the same time, we also gain quick and direct access to a considerably broader bank of competencies that can help us to better solve the larger assignments we have and receive. For example, it will put us in a much better position to deal with the many larger transactions that we handle. In addition, we no longer need to worry about many of the processes that are always involved in a company such as ours and can instead focus fully on serving our clients," says Christian Bonnesen from Bonnesen Advokater, adding that:
"Mazanti is both my old workplace and my new one, and I know that being a part of Mazanti will put us in a considerably stronger position. We have good chemistry, many skilled people to draw upon and a range of stable processes to rely on. This will be of benefit to both our clients and ourselves".
The admission formally involves the partners at Bonnesen Advokater becoming partners in Mazanti-Andersen Korsø Jensen. All employees at Bonnesen Advokater will remain on Funen in a new head office building located in the center of Odense.
For further information:
Henrik B. Sanders
Mazanti-Andersen Korsø Jensen: +45 33 19 37 17 / hbs@mazanti.dk

Christian Bonnesen
Bonnesen Advokater: +45 63 14 14 23 / ceb@mazanti.dk  

About Mazanti-Andersen Korsø Jensen
Founded in 1853, Mazanti-Andersen Korsø Jensen is Denmark's oldest law firm. Today, the company represents a large number of Danish and international corporate clients. The company is an LLP with 90 employees. Mazanti-Andersen Korsø Jensen provides specialized legal advice within the following areas: Corporate & Commercial, Real Estate, Insolvency & Estate Management, Transactions and Dispute Resolution.
About Bonnesen Advokater
Bonnesen Advokater was founded in Odense by Jørn Bonnesen around 40 years ago. Besides Jørn Bonnesen, his son, Christian Bonnesen, is partner in the company. Before this, Christian had previously worked at Mazanti. The two other partners, Lars Rasmussen and Lars Høj Andersson, came to Bonnesen Advokater a year and a half ago, and they have jointly created a strong commercial law firm employing 32 people on Funen.